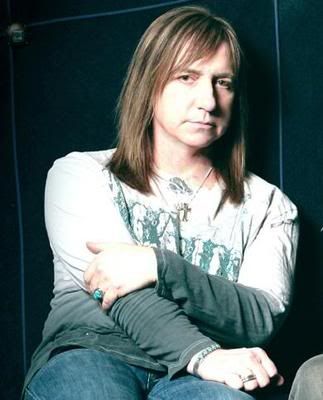 By Mitch Lafon 

Producer and keyboardist Michael Lardie's musical journey has been a long and prosperous one, but for nearly thirty years fans have associated his name with one of rock's enduring bands, GREAT WHITE. Lardie sat down with BraveWords.com to discuss the band's plans heading into 2012 and former singer Jack Russell's plan to launch a Great White light touring band, but first, former manager, collaborator and friend, Alan Niven (GUNS N' ROSES), offers this special forward: "Over the reluctance of the band members I had Michael join Great White in late 1986. Russell and (Mark) Kendall were averse to the use of keyboards. I wanted Michael not only for this, and his second guitar, but also his engineering abilities. The latter, in particular, allowed us to be entirely self-sufficient and self-contained. The bonus: we all benefitted from was his composing abilities. 

Over the years Michael made some exceptional contributions, being, for example, the main force behind 'Rock Me'. 'I want a 'Face The Day', I said. He delivered. We wrote a good number of songs together, perhaps the best being 'Sister Mary' (which I never wanted released, for personal reasons, although some truncated form did get put out after we parted ways,) and 'Love Is A Lie'. In many ways, I considered him the other half of me when it came to song writing - writing in pairs is the best form of composing. 

After thirteen years, I parted ways with Russell and co. in 1995. We had well run the course. I don't really miss dealing with the negatives, but I have missed working with Michael. I have worked with others, but none have connected as well as Michael. Not so long ago we got together and found the old magic was not dead. In short order we had two songs done. Magic does not die, it just hibernates for a while."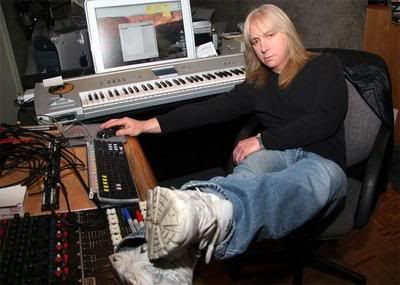 BraveWords.com: Is Terry Ilious (XYZ) the official singer for the band from here on out?  

Michael Lardie? "Yes, that is the belief and intention. It's our plan for the year and years to come." 

BraveWords.com: Terry joined the band once before and was later replaced by Jani Lane (WARRANT). Now, he's back. Why did he leave the band for that period of time?  

Lardie: "That was an interesting thing that happened. We loved Terry right off the bat. He's historically been a go-to-guy for other bands. He'll learn the tunes on the plane, come in and nail it. Terry is known for being a quick study and such a talent that he can jump in a do that. We had the daunting task of figuring out how we were going to save our year. In September 2010, we still had 25 or 26 dates on the books. The issue being that the promoters were squeamish about going with someone who was not as well known as Jack or Jani or a Sebastian Bach type singer. So, when we were faced with that we had to decide do 'we pull down' or save our relationship with the promoters and continue to finish out the year. What's our best scenario? Jani just happened to be available and in a very good place. I feel blessed that I had an opportunity to work with him when he was in that best of places." 

BraveWords.com: What has changed with the promoters? Are they simply more willing to accept the band now with Terry or are they saying 'c'mon guys go get Sebastian Bach'?  

Lardie: "It's just a matter of us going out and doing 50 or 60 dates with Terry. You can look all over YouTube at performance after performance and Terry does more than a commensurate job. He's having blast being the frontman for this group. Those who were a little squeamish last year by the end of the show are going, 'I believe you now'. That was always our intention - to have Terry be the guy to stand in for this year and have people 'believe' it when they came and saw it. Ultimately, we've always believed that it's down to the material and the vibe of the band." 

BraveWords.com: At some point, do you make a new album with Terry or either a live CD or DVD?  

Lardie: "I would love nothing more than to do an entirely new album with Terry because he's a very good writer. He writes a lot with Jeff Paris. Jeff has been around forever and has written songs with VIXEN and many of the '80s bands. Terry's writing chops are pretty together, so we're looking forward to having that opportunity should it present itself. It would be an interesting wrinkle and would be the newest of new Great White with Terry singing. That would be very cool and I'd like to do a live record because I think Terry does an amazing job singing live. His pitch is almost 'other worldly'." 


BraveWords.com: Plus, the band has always been great live. There's been some debate about this or that album not being as good, but live there's never been any complaints. So, a live CD would be a good way to showcase the new band. 

Lardie: "We're hoping to do a proper DVD and multi-track recording. The DVDs that are out there were released without our blessing or permission, but it's the same thing that always happens with these smaller companies or individuals - the amount of money it would take to fight in order to recoup the monies that are due us far exceeds what they've made on their own. It's a lose-lose situation, so we're just hoping to do it right." 

BraveWords.com: Great White recorded a live acoustic album a few years ago - Live At The Palms in Las Vegas, but it was never released. Will it ever come out?  

Lardie: "I'm not really sure. That was recorded at a time when I was actually playing with Night Ranger. It was a line-up that Jack was using... all back-up musicians. Mark was there, but I'm not really sure what happened to that. I'll have to ask Obi (Steinman - manager) about that one." 

BraveWords.com: Let's talk about Jack Russell. He's been unheard from for almost a year. He's back and announces that he is Great White and the band is touring. Which is, of course, a problem because there is now two Great Whites. What's your take on the whole situation?  

Lardie: "Obviously, we were blind-sided by the quote unquote announcement. We've always wanted to be supportive of Jack during this whole time. Obviously, the communication with some of the members was better than with some other of the members. I've always been closer to him and I would talk to him more during that time. I don't really know what his motivation or drive was to get back into the fold. It's a lot of work and you have to realize that he went through an extreme surgery." 

BraveWords.com: For a perforated bowel... 

Lardie: "Yes and with a perforated bowel, he had to be fitted with an artifice. He was on that for eight months before he got to do the re-section." 




BraveWords.com: If you look back at the videos from that time on YouTube, he was singing in a wheel chair, falling down and simply wasn't looking healthy. 

Lardie: "People would question - 'what is he out there doing?' There were a number of times Mitch that we asked him straight to his face, 'do you want to pull it down? So, that you can recuperate.' He would tell us very clearly - 'no, I want to work and I can get it done.' Obviously, by evidence on YouTube, it was not getting done the way that Jack would normally get it done and certainly not the way that his fans were used to seeing Jack get it done." 

BraveWords.com: The band, since Jack's statement, put out a press release that went into some 'personal detail' and my question is - did you go too far in exposing all the drug use or was it necessary for the fans to understand why Jack disappeared from the scene and why he can't be Great White's singer right now? 

Lardie: "That's a very interesting yet loaded question." 

BraveWords.com: It is and I was trying to think how to 'un-load' it, but I just couldn't do it. 

Lardie: "I don't know that you can 'un-load' that'. I think, in one respect, that people are saying that our statement went too far, but other people are saying that it's healthy because you've been trying to get him sober for over 2 1/2 years..." 

BraveWords.com: If not, from the 1980's... 

Lardie: "Well, we all know what we were all into, but most of us have grown up, have families, and have moved on to another level - realizing that we do what we do and are lucky as hell to keep doing it. The old adage is that if you stay in this business long enough you actually become a musician. As far as too far or not too far - I stand by what we said because I think it was a little bit of tough love." 

BraveWords.com: If Jack accomplishes what was said about getting straight, attending AA meetings and other things... Does he get invited back to the band?  

Lardie: "I don't know if there was ever an issue about him being 'invited'. It wasn't like that. We always held true to the fact that this is that band that you (Jack) front. Please get better. Please get sober. Please get your voice back together. Please get your health back together. Then, we can sit down and talk about moving forward. It's not a matter of 'invitation'. It's always been understood that he is the singer of Great White. We only made those conditions based on the fact that we are trying to get him to be the best that  he can possibly be and to me that's the best that this band can be - which is: if all five members are standing on stage giving it everything they have. You know, leaving it on stage every single night and if you're doing something in your life that does not allow you to be the best that you can be  then I don't think that it's fair to the fans."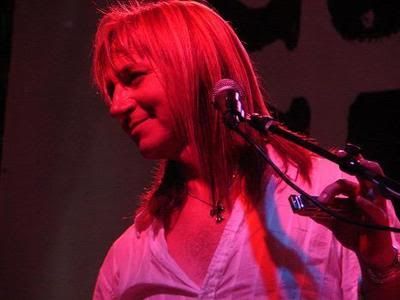 BraveWords.com: You've also been in and out of the band. This time is seems to be on a more permanent basis. How are you feeling being in the band?  

Lardie: "During that time in 2001/2002, we were finishing up and Mark went off to do a solo record. Jack went off to do a solo record. I was basically left without a gig, so I was very fortunate to be asked by Jack Blades to join NIGHT RANGER. He called me up and said 'what are you doing?' and I told him that I was just 'sitting still'. He asked if I'd come out and sub for Fitz (original Night Ranger keyboardist Alan Fitzgerald). I did that for five or six dates and it kept getting extended. Fitz was actually doing some keyboarding and teching for a (BRUCE) SPRINGSTEEN tour. It got to a point where I had thirty dates under my belt and the boys said to Fitz 'since you're not consistent and we can count on him - he's our guy and we're going in this direction.' I played with them from 2002 through June of 2007. It was at Christmas time 2006 that we talked about doing a reformation with all the original Great White guys." 

BraveWords.com: For the 25th anniversary... 

Lardie: "Yeah, the 25th year." 

BraveWords.com: Great White never had the success of a BON JOVI or DEF LEPPARD, but yet here you are thirty years into the game.  

Lardie: "It's the thirtieth year as the name Great White, but Jack and Mark had been playing in bands from 1978 on. So, they would be at thirty-four.  

BraveWords.com: It's a tough gig to last this long. So, there's a lot to be proud of. 

Lardie: "What a long strange trip it's been, but I feel very blessed and fortunate that we still have the energy, the drive and the fan base that gives us the opportunity to go out and do what we love to do. Why that is? There's so many variables, but I think we're lucky enough to have really good songs." 

BraveWords.com: That's what it always comes down to - great songs. Speaking of which, what did Alan Niven bring to Great White and the songs? Because of his association with the original Guns N' Roses people often forget that he played a crucial role in Great White's career. 

Lardie: "There's no doubt that Alan was instrumental on a lot of levels. Besides being a great lyricist, Alan's viewpoint was always, 'I'm writing lyrics for another singer and I've got to make sure he can wear them, bring them across to people and make them be real'. What he did as a lyricist was very masterful and as a producer he was a great partner of mine. We had a blast doing those records and we did a lot to making the arrangements what they were. That was just a blast to do. It's hard to say where it goes sideways, but I'm very proud of the time that I had with Alan working with Great White."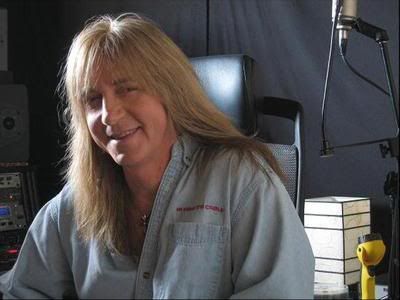 BraveWords.com: Mark Kendall is probably the greatest unsung guitar hero. He's got such a distinct sound. What does Mark bring to the band?  

Lardie: "With Mark, it's so much about feel and taking the care to think about the notes he's playing. When he wraps himself around his viewpoint on a solo; when he plays those notes you believe them. That to me that is the best guitar player because he's almost singing what he's playing and with Mark it's always been in the fingers. I've seen him pick up the shittiest of guitars and make it sound like Mark. It's really just in his fingers." 

BraveWords.com: There's a genuine emotion when he plays. It's fantastic. 

Lardie: "Yeah." 

BraveWords.com: Let's just recap - the band is doing a new album in 2012. You've got some club dates planned, but is there a package tour coming (opening for POISON or hitting the road with Warrant)?  

Lardie: "We've done the 'weekend warrior' thing since we've gotten back together. We've got stuff coming up. We've got casinos. The Wisconsin State Fair this summer. We're starting to get some large anchor dates and that has a lot to do with the performances we've put across this year." 

BraveWords.com: US dates only or are you looking at Canada, Japan, Europe and/or Australia?  

Lardie: "I would love to get to Australia (we never have) and, of course, Japan. I went there with Night Ranger three times and the fans always ask 'when are you going to come back'. So, hopefully someday. There's a hope and a chance for us to do Japan. We might get lucky enough to do some festival dates in Europe this summer. I'm hoping that comes through, but you have to look at the economy - can you really mount a whole tour in Europe until they get it all sorted out over there?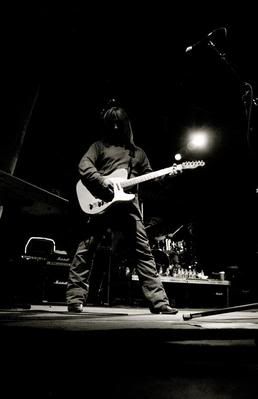 BraveWords.com: And hopefully Canada... 

Lardie: "We'll play anywhere." 

BraveWords.com: Any last words?  

Lardie: "As Jack's friend and someone who's been his working partner for years and years, the bottom line is that I just want Jack to be healthy. I just want Jack to have 'quality of life' and if he finds that this is an opportunity for him to do what he wants and go out and play then I absolutely wish him the best. It's not anything like you couldn't be the best you could be in this scenario (for whatever reason), but I believe and know that he has it in him.  I hope that he finds a place to stand on his own merits, but ultimately like PAUL RODGERS he went "I'm Paul Rodgers - the greatest voice in rock n' roll and I'm going to start my own damn group and this is going to be the name of it.' So, I hope that's what happens because there is room for him to be out there and I just want him to be healthy. So, that when he goes out there, he's actually enjoying himself." 

For more Great White visit Greatwhiterocks.com. 
Courtesy of www.bravewords.com