FemaleFirst.co.uk reports: 

PAUL STANLEY would never be friends with PETER CRISS or ACE FREHLEY again. The KISS singer would never allow the band's former guitarist and drummer - who left in the 80s, but rejoined the band between 1996 and 2002 and 2001 respectively - to play with the group again and claims they were never very close even in their 70s heyday. 




Paul exclusively told BANG Showbiz: "Friends? No I was never really friends with them. The band was never about friendship, the band was about commitment to a cause, but friendship? We were all very different people. 

"I loved them for what we created together, I certainly don't love them today. But the band as it is today is far more the embodiment of what we started than what we became." 

When asked when he had last spoke with his former bandmates, Paul said: "I spoke to Ace probably three years ago. Peter I haven't spoken to in probably a decade." 

Read more at this location. 

On July 3rd, KISS held a press conference in London, England to launch their highly anticipated KISS Monster Book. Check out footage below: 





KISS' limited edition Monster book is now available for pre-order at Kissmonsterbook.com. Only 1,000 books are available. 

The book features all the different eras of KISS live, from the early years to the present day. It stands at three feet tall and two and half feet wide. 

Each book is carefully handmade in Italy, choose from one of 10 country flags, the sleek and stylish KISS Monster logo edition or the classic KISS Army cover.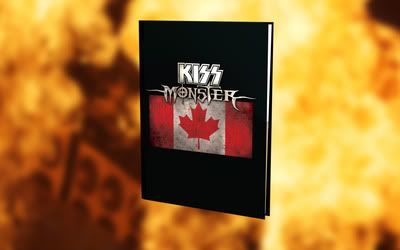 Every signature page is signed by KISS members Paul Stanley, Gene Simmons, Tommy Thayer and Eric Singer. The signature page has a personal message from KISS to their fans. 

According to a press release, KISS Monster book is "page after page of glorious, unseen, giant photographs, stunningly reproduced and hand-bound into the largest rock book ever published. Prepare for a larger-than-life journey through 40 years of KISS, the greatest rock band in history! The latest photographic reproduction techniques and high density printing has enabled us to faithfully reproduce the ultimate KISS experience for you to enjoy in the comfort of your own home. This book is like nothing you have ever experienced!" 
Courtesy of www.bravewords.com