The fourth annual Revolver Golden Gods Award Show will take place Wednesday, April 11th, at Club Nokia in Downtown Los Angeles,CA. For the first time ever, the event will be broadcast live in its entirety on Xbox LIVE, as well as on the Xbox and Revolver's Facebook page. 

The nominees in 11 different categories, plus the recipient of this year's prestigious Golden God Award, were revealed at a press conference held at the Grammy Museum in Los Angeles. Host Chris Jericho was on hand, along with ALICE COOPER, Zakk Wylde (BLACK LABEL SOCIETY), Vinnie Paul (PANTERA, HELLYEAH), James Michael (SIXX:A.M.), Vinny Appice (HEAVEN & HELL, KILL DEVIL HILL), BLACK VEIL BRIDES, Mike Portnoy (ADRENALINE MOB), John Moyer (DISTURBED, ADRENALINE MOB), Michael Starr (STEEL PANTHER), Wendy Dio (wife of RONNIE JAMES DIO) and pro motocross rider Brian Deegan to announce the nominees. 

Check out footage from from the press conference and an Artisan News report below: 





Hosting duties for the GOLDEN GODS awards show will be handled by FOZZY frontman and WWE pro-wrestling legend Chris Jericho, who returns for the third consecutive year. 

Adding to the celebration, The 2012 Revolver Golden Gods Awards Show will feature one-of-a-kind special performances and collaborations that honor both the past, present and future of heavy music. The night's musical performances will include sets by MARILYN MANSON (in his first US performance in nearly three years); SLASH featuring Myles Kennedy and THE CONSPIRATORS; EVANESCENCE; SIXX:A.M.), and 2011 Best New Band Golden God Award winner Black Veil Brides, who will perform their only US show of 2012 so far. More performers will be announced in the coming weeks.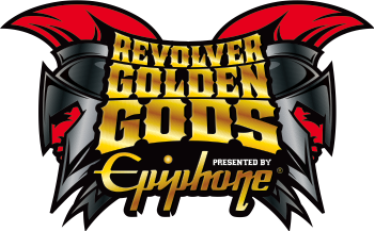 The nominees for the 2012 Revolver Golden Gods Awards presented by are: 

Best Guitarist: 
Jinxx and Jake Pitts (Black Veil Brides) 
Zoltan Bathory and Jason Hook (FIVE FINGER DEATH PUNCH) 
Willie Adler and Mark Morton (LAMB OF GOD) 
Robb Flynn and Phil Demmel (MACHINE HEAD) 
Dave Mustaine and Chris Broderick (MEGADETH) 
Matt Heafy and Corey Beaulieu (TRIVIUM) 

Best Drummer: 
Charlie Benante (ANTHRAX) 
Jeremy Spencer (Five Finger Death Punch) 
Taylor Hawkins (FOO FIGHTERS) 
Chris Adler (Lamb of God) 
Brann Dailor (MASTODON) 
Tomas Haake (MESHUGGAH) 

Best Vocalist: 
SEBASTIAN BACH 
Andy Biersack (Black Veil Brides) 
James Durbin 
Amy Lee (EVANESCENCE) 
Ivan Moody (Five Finger Death Punch) 
Jonathan Davis (Korn) 

Album of the Year: 
Anthrax - Worship Music 
Evanescence - Evanescence 
Five Finger Death Punch - American Capitalist 
Foo Fighters - Wasting Light 
Korn - The Path of Totality 
Lamb of God - Resolution 

Best Live Band: 
AVENGED SEVENFOLD 
Foo Fighters 
GUNS N' ROSES 
JUDAS PRIEST 
SEETHER 
TOOL 

Most Metal Athlete: 
Gina Carano (MMA fighting) 
Brian Deegan (pro motocross) 
Evan Longoria (MLB baseball) 
Dirk Nowitzki (NBA basketball) 
Mitch Petrus (NFL football) 
CM Punk (WWE wrestling) 

Comeback of the Year: 
Anthrax 
DREAM THEATER 
Evanescence 
MINISTRY 
SLIPKNOT 
VAN HALEN 

Riff Lord: 
Scott Ian (Anthrax) 
Zakk Wylde (Black Label Society) 
Dave Grohl (Foo Fighters) 
Munky (Korn) 
Slash 
Eddie Van Halen (Van Halen) 

Paul Gray Best Bassist: 
Frank Bello (Anthrax) 
Michael Anthony (CHICKENFOOT) 
Fieldy (Korn) 
David Ellefson (Megadeth) 
Nikki Sixx (Sixx:A.M.) 
Wolfgang Van Halen (Van Halen) 

Best International Band: 
BEHEMOTH 
LACUNA COIL 
RAMMSTEIN 
SEPULTURA 
Meshuggah 
X JAPAN 

Most Dedicated Fans: 
ASKING ALEXANDRIA 
Avenged Sevenfold 
Black Veil Brides 
Evanescence 
FALLING IN REVERSE 
HIM 

The Golden God Award, given to one special honoree a year who embodies the spirit of hard rock and metal, will go to KISS demon Gene Simmons. 

Simmons commented: "It's an honor and privilege to accept the Golden God Award. A God is only as powerful as the faithful who worship him. Signed God Of Thunder." 

Also on April 11th, The Grammy Museum, next door to Club Nokia, will open its new exhibit Golden Gods: The History Of Heavy Metal. Mounted in coordination with Revolver, the exhibit will feature never-before-displayed artifacts including instruments, stage props, handwritten lyrics, clothing and costumes, alongside original album artwork, posters and live-performance and interview footage. The exhibit will also feature a variety of interactive displays. 

Grammy Museum Executive Director Bob Santelli commented: "We are thrilled to be partnering with Revolver to tell the story of metal and offer fans the opportunity to engage with their favorite artists in such a personal way." 

For more details visit this location.
Courtesy of www.bravewords.com